THE MATH DEPARTMENT CELEBRATES PI DAY!
Every year, during the month of March – March 14th to be exact – Holy Cross holds a school-wide Pi Bee. Over 20 students, representing freshman, sophomore, junior, and senior math classes, participate in the Bee. First, second, and third place winners are awarded prizes. After the contest, participants enjoy a slice of pizza pi(e)!
Included in the mathematical festivities of the week are posters relating to Pi and famous mathematicians found throughout the school, and a "Pi Fact of the Day" presented on HCTV.
How many digits of Pi can you memorize? Here are the first 100 of them:
3.1415926535 8979323846 2643383279 5028841971 6939937510 5820974944 5923078164 0628620899 8628034825 342117067
2016 Pi Day Contest Winners
Congratulations to our 2015 Pi Day Contest Winners!
2014 Pi Day Contest Winners
2014 First Place Winner & Ms. Pollini, Math Department Chair
Our 2014 Pi Day Contest Participants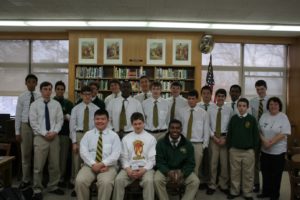 2016 PI DAY WINNERS
Place / Student / Digits Cited
1st / Kevin Rivera (Sophomore)/521
2nd / Theo Karanikolas (Soph.)/131
3rd / Adam Abad (Junior)/104
2015 PI DAY WINNERS
Place / Student / Digits Cited
1st / Kurt Gollerstepper (Senior)/506
2nd / Kevin Rivera (Freshman)/302
3rd / John Flynn (Senior)/210
PREVIOUS FIRST PLACE WINNERS
Year Student / Digits Cited
2015 Kurt Gollerstepper/506
2014 Kurt Gollerstepper/221
2013 Van'nderl Sénat/227
2012 Pierrot Sénat/500
2011 Pierrot Sénat/341
2010 Pierrot Sénat/241
2009 Dante Van Putten/441
2008 Dante Van Putten/360
2007 Marcus Ellis/411
2006 Marcus Ellis/302
2005 Marcus Ellis/260