Celebrating Holy Cross Families and Traditions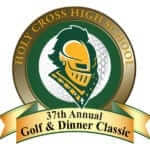 In 2018 we established a theme for the annual Golf Classic that celebrated Holy Cross High School families and traditions. That year we honored the many Holy Cross families with siblings who graduated, or are currently enrolled, and the incoming families just beginning their legacy at Holy Cross.
This year we will travel back to our roots when traditions were begun as we honor the members of the Class of 1959, the first graduating class at Holy Cross High School, who are celebrating their 60th Anniversary.  The alumni have honored their motto "Always the First" by remaining a bastion of support for their alma mater. At annual reunions – or in smaller gatherings around the country – they come together to laugh, to cry, to reminisce and to mourn the classmates who passed but will forever remain in their hearts.
A new tradition has begun this year as the golf outing will be referred to heretofore as the Golf and Dinner Classic. We hope that incorporating the evening portion of the event in its nomenclature will attract non-golfers who wish to attend a Cocktail Reception with Dinner Buffet in the exclusive and elegant surroundings of the Engineers Country Club in nearby Roslyn Harbor.  Following the Reception, Dessert and Cordials are served in the dining room while guests enjoy the comic relief that alumni James Benesh '08 and AJ  Sonnick '11 bring to the Live Auction.
Our golfers return each year to support the golf outing, the net proceeds of which benefit the Alumni Scholarship Fund. This year the event will be held at Engineers Country Club and space is limited! If you wish to participate, please register early as we expect the course to fill up quickly. If there is no space available on the course, please consider joining us later in the day for the afternoon and evening festivities.
Sponsorships – with, or without foursomes – are available at all levels. We will also customize a sponsorship to meet your needs. Donations of raffle and auction prizes are always welcome should you have access to season tickets, theatre or concert venues, gift cards, or simply wish to make a donation to promote your business and show your loyalty to Holy Cross High School.
For more information on the various ways in which you can support the 37th Annual Golf and Dinner Classic, please click here or contact Gail Sicoli at (718) 886-7250, Ext. 577 or email gsicoli@holycrosshs.org.