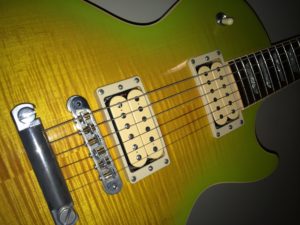 Aside from physically learning how to play the guitar, the club members and moderators provide a valuable wealth of musical information. Students are introduced to different artists and bands that they never heard of and learn about gear that they never realized existed.
Generally, the more experienced members play songs with other experienced members, or teach songs to the less experienced ones. On the other hand, some members have never picked up a guitar before. As long as a member is willing to learn, there is always somebody willing to teach them.
Most participating students are guitarists, but we welcome bass players, drummers, folk musicians, pianists, and those who love to hear live music. 
Come on in and jam with us!
Club Information: Since 2007, the Guitar Club has provided a comfortable environment for the musicians of Holy Cross High School to build on their talents. Because the club is open to all musical styles and ability levels, every student has the opportunity to learn something new by interaction.
Meetings: Wednesdays at Dismissal in  Band Room