"To have another language is to possess a second soul." ~ Charlemagne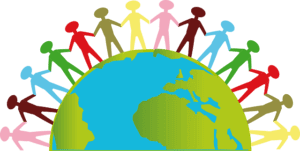 This club endeavors to promote an educational understanding of the importance of our cultural differences in a fun- filled environment. I strive to instill in the students the realization that we live in a global society and that they will need to be competent in a second language. The World Languages Club has engaged in a diverse assortment of activities over the years such as:
~ Competing in Scrabble board games in Spanish/English.
~ Creation of Posters for International Night/Open House.
~ Instruction of Pinata crafting for St. Mary's Hospital.
~ Preparation of Ethnic foods: empanadas, fried plantains, arroz con leche, etc.
~ Designing the "Ojos de Dios" bracelets for personal gifts and classroom display.
~ Participation in Open House festivities.
Meetings: Thursdays at Dismissal in Room 206 or the back of Cafeteria