Every year, gifts to the Knights Fund provide renewable support for Holy Cross and the Knights by focusing on four key areas of impact: academics, athletics, arts, and affordability.  These "four As" are critically important to transforming boys and girls into Knights — men and women with hope to bring.  Check out the information on each of the four As below to see how Holy Cross is using each A to educate minds, cultivate hearts, bring hope, and transform lives.  These sections will be updated periodically throughout the course of the Knights Fund appeal.
Academics
At Holy Cross, education of the mind and cultivation of the heart begins in the classroom.  All our students build a strong academic foundation through core studies in Theology, Social Studies, English, Science, Mathematics, Fine Arts, and World Languages. Throughout the course of those studies, Holy Cross students are encouraged to challenge themselves.  In coordination with their guidance counselors, many students opt to step out of the standard track for a given course and step into one or more of our 42 Honors and Advanced Placement (AP) courses.  These more challenging options are offered in all disciplines and at all grade levels.  Across the curriculum, our unique focus on STREAM (Science, Theology, Robotics, Engineering, Arts, and Mathematics) imparts a deep appreciation for the complementary roles of faith and reason in both our academic pursuits and in our daily lives.  In addition, our 1:1 Chromebook Program ensures that all students in all disciplines have access to the cutting edge instructional technology.
Atop the strong foundation laid by our core requirements, Holy Cross students have the opportunity to build specialized knowledge and explore their interests by picking from over 50 elective offerings in our course catalog.  We strive to add new, meaningful courses every year. For instance, over the past few years, we've added courses like AP Computer Science, AP Macroeconomics, AP Environmental Science, AP French, Figure Drawing, SAT/ACT Prep, and a course in Sociology.   Students may use their course selections to earn up to 9 college credits per semester through academic programs like our College Advantage Program in partnership with St. John's University and our Science Research Program in partnership with SUNY Albany.  Our AP courses offer similar opportunities to earn college credit while still in high school.  Entering college with several courses already under their belts can give students a leg up and reduce the number of collegiate credit-hours they'll need to take, thereby reducing the cost of college overall.  Last year, Holy Cross students earned over 800 college credits!  Knights have also kept the cost of college down by using their smarts and skills to earn scholarships.  Last year, 3 out of every 4 graduating seniors earned at least one college scholarship for a total of over $15 million in college scholarships earned.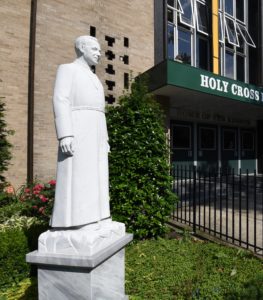 In total, our 136 varied course offerings allow every student to build a robust and appropriately challenging curriculum – even students who are not part of our high-performing Moreau Honors Program.  After founding the Congregation of Holy Cross, Blessed Fr. Basil Moreau instructed Holy Cross educators never to turn away any student whom they could help through the ministry of education.  In fact, Saint Bro. André Bessette considered himself to be such a remedial student that he feared that he might not "make the mark" needed to become a member of the Congregation. Named in his honor, our Saint André Bessette Academic Success Program offers students from educationally disadvantaged backgrounds a framework through which they can master the skills needed for college and beyond. Similarly, our SETSS Program allow students with individualized education plans (IEPs) the flexibility to thrive as well.  After four years of study, all Holy Cross students graduate with either a Regents Diploma or a Regents Diploma with Advanced Designation.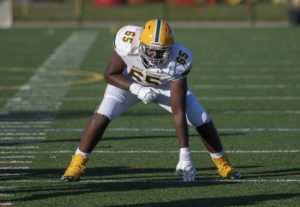 Athletics
At Holy Cross, we recognize and value the entire person – mind, body, and spirit.  We strive to mold that person to become an intelligent, responsible, well-rounded member of society. Holy Cross students are the leaders and doers of tomorrow. That's why a Holy Cross education extends well beyond the classroom and why athletics is supported in part by the Knights Fund.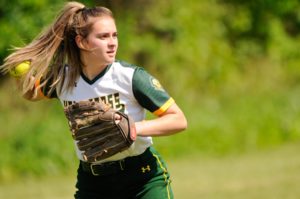 Through athletics, students build their self-confidence, develop the skills needed to be high-performing team players, and experience firsthand the value hard work, fair competition, and perseverance. Through sports, they also form friendships that last a lifetime. Our required Phys. Ed. and Health classes ensure that every student has at least a baseline of experience in these areas. Most students, however, opt also to participate in at least one team sport after the school day has ended. This year, we expect that about 450 student-athletes will represent Holy Cross on the field, court, track, rink, course, or lane. That's well over half of our student body! During the 2021-2022 school year, Holy Cross will be fielding 32 teams in a total of 13 sports: football, soccer, cross country, cheer, bowling, volleyball, basketball, hockey, baseball, track, golf, handball, and softball.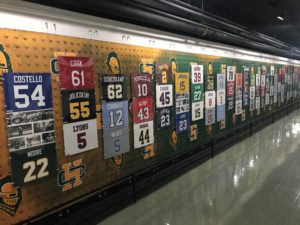 When speaking about the Holy Cross athletics program, Jimmy Conboy '83, our VP Advancement, put it this way: "Our sports program at Holy Cross is truly historic. Since our school opened in 1955, Holy Cross has always been a school where sports was – and is – an important part of our Catholic identity. Most alumni I speak with credit Holy Cross athletics and their coaches with shaping who they are today. It reinforces characteristics of dedication, teamwork, and accountability. Our alumni and teams honored in Legends Hall exemplify our rich athletic tradition."
Arts
At Holy Cross, we value each student as an individual with a distinctive personality, a one-of-a-kind background, and a truly unique set of talents, strengths, interests, and aspirations. We value our students' talents not only academically, but also in areas like the fine arts, music, and performance. The arts provide our students with opportunities for creativity and self-expression, and they are an invaluable part of educating the whole person – mind, body, and spirit. For many Knights, lifelong passions and even careers in the arts begin right here at Holy Cross. That's why the arts at Holy Cross are supported in part through annual Knights Fund contributions.
At Holy Cross, the arts make up a crucial part of our required and elective course offerings as well as our co-curricular and extra-curricular programs. One full year of art is required at Holy Cross, ensuring that every Knight has at least an appreciation for the fine arts, the musical arts, and the performing arts.
This year, our Arts Department is offering a total of 22 courses. These courses include tried-and-true classics like Concert Band, AP Music Theory, Painting, Drawing, and Introduction to Art I and II. A slew of modern additions like Television Production I and II, Digital Photography, and AP Studio Art (also known as "Senior Portfolio") are also offered. In recent years, computer-aided, "technical" arts courses like Mechanical Drawing I and II, Architectural Drawing, and Digital Arts I and II have become important resources to help students develop their skills for a career in the arts. To support these new courses, we recently added 24 new laptops to the Bro. Karl Diemand, CSC Media Center. A new 3D printer in the Media Center also enhances our ability to instruct students in our newer technical arts courses. This shows just how well the arts dovetail into our STREAM Program – after all, the A in STREAM stands for arts! Outside the classroom, many students opt to participate in arts-related activities such as the Art Club, Photography Club, the Fashion Club, and HCTV. We recently revived our choir, and we plan on adding a dance class soon too!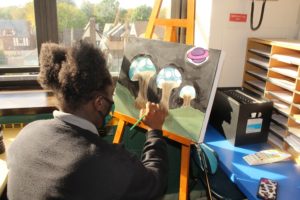 Holy Cross's mission expansion to co-education has also had a significant impact on our arts programs. Reflecting on the recent growth, Arts Department Chair Mike Ware '89 commented, "We are seeing more and more interest from all our students in the arts.  Students are now choosing to take art not because they have to, but because they want to. The courses are interesting and fun, and students also see them as opportunities that will prepare them for college courses and their careers. Our arts programs are growing at Holy Cross, and the future looks bright. Before too long, I hope we will be able to start an Arts Honor Society for juniors and seniors."
Affordability
"Zeal is the great desire to make God known, loved, and served, and thus to bring knowledge of salvation to others. Activity flows from this virtue. Teachers who possess it fulfill the duties of their profession with enthusiasm, love, courage, and perseverance." —Blessed Fr. Basil Moreau, C.S.C., Christian Education
Of the seven spiritual works of mercy, it seems that "instructing the ignorant" was of particular importance to Fr. Moreau, the founder of the Congregation of Holy Cross.  Fr. Moreau knew that every person deserves the dignity of an education – for their own benefit, for the benefit of others, and for the Glory of God. Thus, Fr. Moreau instructed his brothers and priests never to turn away anyone who seeks the ministry of education.  At Holy Cross, we strive to live out this directive and keep Holy Cross as affordable as possible for everyone. Our aim is that finances should never be an obstacle to a capable student who seeks a Holy Cross education.
The Knights Fund helps to keep Holy Cross affordable in two ways:
Tuition Abatement/Subsidy. Every year, we set the price of tuition significantly lower than the full cost of education. We then strive to "fill this gap" by securing funding from other sources.  During the 2020-2021 school year, this subsidy amounted to over $4,000 per student. Gifts to the Knights Fund help to "fill the gap."
Tuition Assistance. Families who fall on hard times may have trouble meeting their tuition costs. When this happens, the Knights Fund steps in to lend families a helping hand.
Holy Cross provides Catholic education to boys and girls from all over Queens, Brooklyn, and Long Island, but most of our students live within a few miles of Holy Cross in Whitestone, Flushing, Bayside, and Jamaica.  These are the areas where our ministry has the greatest impact and influence.  Mike Truesdell, the President of Holy Cross, sees it this way: "In order to serve our local community well, Holy Cross needs to help meet the financial need of many families, and we do this by having this subsidy built into our plan."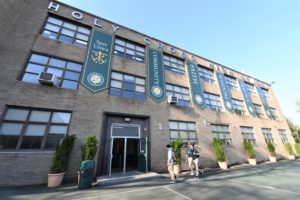 Rob Botero '00, our Assistant VP for Admissions, works with prospective students and their families every day.  He reports, "The $4,000 tuition subsidy we provide is critical to the good work we do.  If we did not offer it, Holy Cross would be out of reach for many families. Over 20% of Holy Cross families apply for and receive financial aid over and above the subsidy."
In addition to affordability for all families, Holy Cross has a tradition of stepping up to meet sudden financial needs that arise in students' lives.  "I can't tell you how many alumni and alumni-parents have had their lives transformed by the generosity of the Brothers or other parents and alumni who stepped up and met their tuition obligations at a moment of crisis," shared Jimmy Conboy '83, our VP Advancement. "To this day, many alumni give in gratitude for what was done for them when they were students here at Holy Cross.  They give to 'pay it forward' to the next generation.  Nowadays, the Knights Fund plays a huge part in meeting those unexpected needs every year."