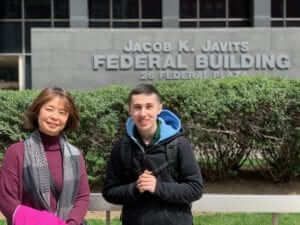 Steven Tautonico is a current senior at Holy Cross High School. Last week, unlike other teenagers his age that were focused on making plans for the weekend, Steven instead was preparing for a meeting with the FBI.
In order to better understand how a high school senior earns an invitation to visit the Cyber Counterterrorism Division, it helps to know more about Steven.
Steven, who began coding in second grade, has been a member of the Computer Club since its inception in 2015. Anyone who meets him quickly discovers his interest and passion for all things "tech". A simple conversation with Steven can jump from topics like the best smart gadgets and laptops, to the need for encrypted cloud backups and why his home wireless network is protected by a 64 alphanumeric password (which is of course memorized, and not written down.) In addition to his involvement in the club, Steven's scheduled classes include Advanced Algebra, Applied Robotics, and AP Computer Science Principles.
Outside of school, Steven is essentially a one-man IT Department for a local health insurance law firm. Steven has been instrumental in guiding his employer through updated security protocols, server integration, and embracing the advantages of digitizing the thousands of physical records previously kept on file.
Earlier this school year, Steven and his AP teacher, Ms. Pirovolikos, were interviewed by the podcast The Security Brief with Paul Viollis for an episode titled "Educating Tomorrow's Cyber Security Leaders". After the interview, Ms. Pirovolikos (nicknamed "Ms. P" by her students) was connected with Lieutenant Gustavo Rodriguez from the NYPD Intelligence and Counterterrorism division to discuss making arrangements to meet Steven.
Lieutenant Rodriguez has an illustrious career in the NYPD and FBI. His career has taken him from Ground Zero on September 11, 2001, to the streets of Singapore and Bangkok. His thesis called for the creation of a program titled Domestipol, which helped facilitate police departments across New York State to share information regardless of location or jurisdiction.
Last week, Steven and Ms. P headed into Manhattan to visit 26 Federal Plaza and meet some of the members of the FBI's Cyber Counterterrorism Task Force.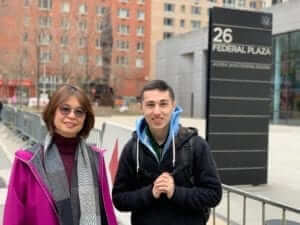 Upon their arrival, Steven and Ms. P were accompanied by Detective Darryl Ng through the required security checks. Before entering the elevator all electronic devices were confiscated and locked away until visitors leave the building. Once reaching the 22nd floor, they were greeted by bright white walls, fluorescent lighting, and vinyl flooring designed to look like pale bleached wood. Centered on the lobby wall is the Department's sigil, an 8ft acrylic disc with the Statue of Liberty surrounded by binary code displayed in green ones and zeros.
The hallway is long and the walls are intermittently punctuated with windowless white doors that require a keycard and code to gain entry: the labs used by the task force to identify, analyze, and reverse engineer stands of malicious code.
Steven and Ms. P were invited into a climate-controlled conference room hidden behind a thick door of frosted glass. Inside awaits Lieutenant Rodriguez, as well as Richard Jacobs: the Special Agent in-Charge of the FBI's Cyber Branch New York Office. Jacobs, Rodriguez, and Ng stressed the need for a strong defense against the changing landscape of cybercrime, and forecasted that over 3.5 million jobs in the realm of cyber security will need to be filled in the next 10 years. For them, Steven is the ideal candidate that the FBI is looking to cultivate and train to fill that void and keep our country safe.
Special Agent Jacobs expressed his excitement about the STREAM program at Holy Cross High School, and how the curriculum will help prepare more students like Steven for a career in cyber security. Ms. Pirovolikos is looking forward to working more closely with the Cyber Counterterrorism Task Force in the future, and plans to have them visit Holy Cross to speak to students about future possibilities and internships this Fall.
Special thanks to Mr. Paul Viollis '79, Special Agent Richard Jacobs, Lieutenant Gustavo Rodriguez, Detective Darryl Ng, Mr. Jimmy Conboy '83, and Ms. Fei Wen Pirovolikos for making this visit possible.