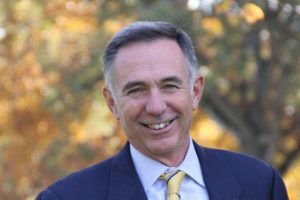 Fall 2020
As the 2020-21 academic year began, Holy Cross welcomed its third class to include young women. We are only one year away from completing our mission expansion. We look forward to next year when we will celebrate the first class of Holy Cross Graduates of both genders.
While we continue to welcome and celebrate the significant changes presented by our mission expansion to co-education, this year we are not only acknowledging but embracing the need to make additional changes in the face of the COVID-19 pandemic.
First, we thank you for your prayers of support! Second, we affirm that our prayers as a community include you, your families, and your friends. Third, these are challenging times!
As Blessed Fr. Basil Moreau, CSC wrote, after founding the Congregation of Holy Cross, "Education is the art of helping young people to completeness." Our seamless move on March 16, 2020 to remote learning was significantly facilitated by forward-thinking initiatives over several years:
– Holy Cross implemented four years ago one-to-one Chromebook use for all students;
– Holy Cross expanded two years ago an already robust internal WiFi infrastructure allowing a savvy faculty to live-stream important course content from classrooms via the Internet;
– Holy Cross faculty availed themselves during their personal time over the summer of sophisticated and state-of-the art professional development to perfect their skills in engaging students of both remote and in-person cohorts, simultaneously;
– Holy Cross board members and benefactors continued to step up to make certain that the hallmark of a Holy Cross education, academic excellence, would remain front and center.
As you move through the pages of our website, you will see examples of a continued effort at Holy Cross to remain forward-thinking on all fronts. Holy Cross is a very special place.
Ave Crux, Spes Unica,

Mike Truesdell, President
mtruesdell@holycrosshs.org