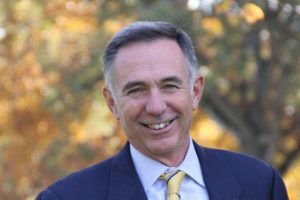 "We shall always place education side by side with instruction; the mind will not be cultivated at the expense of the heart. While we prepare useful citizens for society, we shall likewise do our utmost to prepare citizens for heaven." Blessed Fr. Basil Moreau, CSC, Circular Letter 36.
As our students prepare for their final exams to complete the first year of co-education at Holy Cross, it is deeply gratifying to look back on this year of mission expansion. It has been successful beyond our expectations!
The thoughtful focus by faculty, staff, and administrators to create an environment where both genders of students prepare themselves to become "useful citizens for society," was well displayed during the year-end awards ceremony. It was a joy to see young women and young men march across the stage, collecting awards and receiving applause, for their mastery of the "instruction" given them by an outstanding faculty.
And under the watchful eye of Blessed Fr. Basil Moreau, CSC, our founder, whose bas-relief image is displayed above that stage in the auditorium, it was clear that these young people have indeed "cultivated" their hearts by the gentle way they acknowledged the successes of one another.
Co-education has made Holy Cross an even more special place!
One of the first year of co-education experiences, demonstrating a cultivation of the heart, is told by long-time faculty member Mr. Ron Vallar. He was doubling as chaperone and bus driver for the volleyball team when the bus he was driving suffered a mechanical failure. Fortunately, it was near a place where he could gather the young women and treat them to soft drinks and snacks while they awaited the mechanic. Although the first scrimmage away from campus had to be abandoned, each student will carry forever the example of Ron caring for her. As he tells the story, it is clear that his heart was cultivated just as much as those of the women's volleyball team.
While other such bumps in the road are to be expected, it is clear from the work of Principal Mr. Ed Burns '84, and his team of administrators, that doors always remain open to review any issue, secure all facts, and make decisions that reflect the best interests of the students. Blessed Fr. Basil Moreau, CSC, would be pleased to know that his Holy Cross is following the guidance contained in his Circular Letter 36.
We are anticipating with confidence the opportunity to welcome our second class of both young women and young men. There is real excitement at Holy Cross. Like the door of Mr. Burns, mine, too, stands open to welcome you at any time!
God Bless and Go Knights!

Mike Truesdell, President
mtruesdell@holycrosshs.org