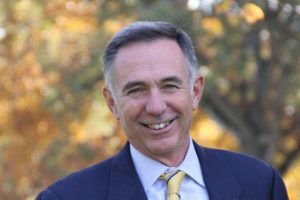 When Blessed Fr. Basil Moreau, CSC, founded the Congregation of Holy Cross, he described his vision in this way,  "Holy Cross will grow like a mighty tree and constantly shoot forth new limbs whose branches will produce yet others, and all nourished from the same sap and endowed with the same life."
We at Holy Cross High School in Flushing, Queens, New York are blessed to be guided by the vision of Blessed Fr. Basil Moreau, CSC.
As we celebrate our graduates of the class of 2018, we are preparing to welcome the class of 2022, the first class to include young women. Among the preparations are changes to campus facilities, professional development for faculty and staff, and a recognition of an infectious enthusiasm among constituents. And with great pride we send the class of 2018 to their next steps, nourished and endowed with what it means to be educated at Holy Cross.
During a Holy Cross Institute conference at St. Edward's University in early April, we learned of an impressive effort undertaken by our colleagues at one of the other seventeen CSC-sponsored high schools in the United States. Faculty, staff, administrators, parents and board members came together to use the writing of Blessed Fr. Basil Moreau, CSC, to define our shared vocation at Holy Cross. Two of Bl. Fr. Moreau's thoughts are truly foundational:
– "With eyes of faith consider the greatness of your mission and the wonderful amount of good which you can accomplish."
– "Education is the art of bringing young people to completeness."
Additional writings were selected by this team of Holy Cross educators to break the shared vision of our vocation into its finer parts:
A. We Are Called to Engage the World Spiritually
"You must be 'all things to all people,' like Saint Paul – little with the little, great with the great, seeing in all only the image of God imprinted within them like a sacred seal that you must preserve at all cost." Bl. Basil Moreau, Christian Education
B. We Are Called to Model Servant Leadership
"Teachers who are meek and who follow the example of Jesus Christ… put themselves in their students' places… They are always guided by a heart full of compassion and kindness and make their decisions without stubbornness or injustice." Bl. Basil Moreau, Christian Education
C. We Are Called to Respect and Validate Diversity
"Our mission sends us across borders of every sort. Often we must make ourselves at home among more than one people or culture, reminding us again that the farther we go in giving the more we stand to receive." Bl. Basil Moreau, Constitutions 17
D. We Are Called to Embrace the Community
"We grow close to one another as family by living together in community. If we do not love the brothers and sisters whom we see, then we cannot love the God whom we have not seen." Bl. Basil Moreau, Constitutions 34
E. We Are Called to Pursue Personal and Professional Growth
"Good teachers are not content simply with obtaining a degree or a credential… they also try to increase their knowledge even further by studying as much as they can." Bl. Basil Moreau, Christian Education.
Holy Cross High School is truly a special place. Please come by campus at any time so I can share with you first hand the blessings of a Holy Cross education.

Mike Truesdell, President
mtruesdell@holycrosshs.org