May 2022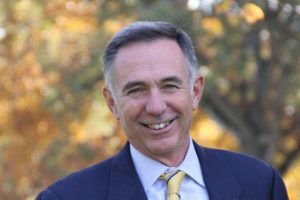 Dear Holy Cross family,
The ongoing 2022 Spring Appeal is my final Spring Appeal as President of Holy Cross. This will probably be the last time you read a message like this from me. As I prepare to "hand the reins" to Mr. Mark Mongelluzzo '92, the incoming fifth president of the school, I find myself reflecting on my time at Holy Cross and all that we have accomplished together.
Serving the Holy Cross family for the past six years has been a very special gift. During that time, our beloved school has grown and transformed so much. In September 2016—thanks in part to a $1 Million investment in our STREAM program—we were able to launch our 1:1 Chromebook program, purchase smartboards for all our classrooms, and significantly enhance our Wi-Fi capacity. These changes revolutionized the way our teachers teach and our students learn. In 2018, we began to offer a Holy Cross education to young women as well as young men. In 2019, we began the Cross Currents Campaign to expand our athletic facilities and enhance our scholarship offerings—a project that continues to this day. At long last we finally broke ground on the new Athletic and Convocation Center just two weeks ago! These initiatives weren't always easy—in fact, most of them were a lot of hard work—but they were right for our Holy Cross students, and they were right for our future. Proof of that came sooner than expected, when COVID-19 forced us into remote learning overnight. Faith and hope were our anchors in the storm. Our various learning model transitions—from in-person to fully remote, then to a hybrid model, and then back to 100% in-person learning—were seamless thanks to investments made by members of the Holy Cross family—people just like you. Anchored in hope through it all, I was overjoyed as we transformed the way we did things and emerged into a bright future.
If you haven't yet had a chance to support the 2021-2022 Knights Fund, I hope you will do so before our fiscal year ends on June 30, 2022! Your support makes it possible for us to give hope and transform lives. Your generosity empowers teachers like Theology Chair Dennis Lyons and Senior Assistant Principal of Campus Life Terry Tarpey '83 to carry out the good work they do with our students. Your support gives young people like Tyler Schweber '22 and Briana Tola '23 the tremendous, life-transforming gift of a Holy Cross education. We wouldn't be able to do it without you!

Thank you for your prayers, your enthusiasm, and your support! Please know that you and your family are in our prayers always.
Yours in our motto—Ave Crux, Spes Unica,


Michael R. "Mike" Truesdell
President, Holy Cross High School