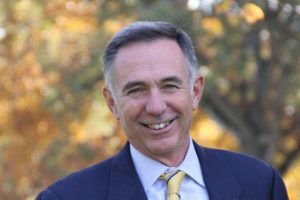 When I was a student, the administration of my Congregation of Holy Cross sponsored school moved to co-education. I recall discussions prior to the decision as well as feelings after the decision was implemented. The day-to-day activities from my view at the time changed very little. Classes were held in the same classrooms. Homework was assigned in the same fashion. Extracurricular activities were held in the same venues. And violations of the rules carried the same consequences.
Fast forwarding to the same transition at this Congregation of Holy Cross sponsored school, I now know why my first experience seemed so seamless. It was because behind the scenes, there were many who, like my colleagues here at Holy Cross, stepped up to make it work.
Our amazing Holy Cross High School assemblage of faculty, staff, and administrators has demonstrated deep concern to properly welcome the class of 2022 into the family. It has been seamless because of thoughtful planning and much work. Faculty visited peer institutions to learn how to make the move. Restrooms for both genders of students have been renovated. New athletic and PE locker facilities have been installed. Class schedules have been tweaked to streamline the flow of both new and seasoned students between classes. And extracurricular activities have been initiated to ensure equal opportunity to participate in the life of our Holy Cross family.
Among the most pleasing observations has been a heightened sense of energy among all students. By remaining open to change, we all seem more accepting of it. And by recognizing that change is another definition for the growth we are experiencing, we are truly living the words of our founder, Blessed Fr. Basil Moreau, CSC, when he wrote in 1855, "How we educate the mind will change with the times: How we cultivate the heart is and will remain timeless."
Based on our first semester of co-education, the future looks very bright. I invite you to come to campus at any time. It would be my pleasure to give you a tour. You can see for yourself.
God Bless and Go Knights!

Mike Truesdell, President
mtruesdell@holycrosshs.org