Dear Holy Cross Family:
Following an extensive, months-long search of qualified candidates, Holy Cross is pleased to announce that Dr. Weedens E. Blanchard, Ed.D. will serve as its eleventh principal as of July 1, 2023.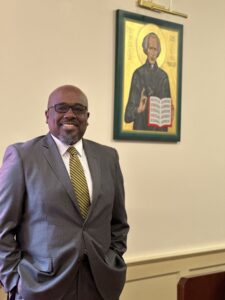 Dr. Weedens "Woody" Blanchard is a 1989 graduate of Holy Cross and a 2022 Hall of Fame inductee. Born in Port-au-Prince, Haiti, the eldest of four children, he emigrated here with his family in 1977 and attended St. Pascal Baylon School in St. Albans, Queens.
Dr. Blanchard joins us from Adelphi University where he is currently the NYC Teaching Fellows Program Director and Manhattan Education Program Director in the Ruth S. Ammon College of Education and Health Sciences. He had previously been the Director of Education and Evening School Director at Hunter Business School, Levittown Campus and the NYC MEN TEACH Program Director at Hostos Community College, CUNY.Throughout his vast academic career spanning over two decades, he has held numerous positions at various institutions including his alma mater, St. John's University, Queensborough Community College and Vista Academy Middle School and has had extensive experience in instruction, curriculum development, teacher and staff evaluation, student advisement and course selection, IT networks, program development and management and strategic planning.
An accomplished trumpeter, Woody found his passion for music at Holy Cross, and was a member of the Jazz Band and Pep Band. He won the 1989 Directors Band Award his senior year and received a music scholarship to St. John's University, where he would earn his Associate of Science Degree in Electronic Data Processing and a Bachelor of Science in Computer Science with a minor in Business Administration. He would later earn both a Master of Business Administration in Executive Management and a Doctor of Education in Educational Administration and Supervision from St. John's University as well.
Dr. Blanchard has served on various committees at both St. John's University and Queensborough Community College including Academic Strategic Planning, Retention Management, Enrollment Management and the Middle States Technology Committee, among others. In 2020, he joined the Board of Holy Cross and has served on the Personnel and Negotiations Committee as well as the Executive Committee as Secretary where he has proven to be insightful in analyzing the challenges facing Holy Cross.
Mentorship and a dedication to social justice has also been an important facet of Woody's educational and leadership philosophy. Over the past several years, his work with NYC MEN TEACH helped inspire more men of color to become teachers in New York City through a variety of engagement and recruitment efforts. He has also spent time mentoring young African American males as well as underserved students as a Student Sponsor Partners (SSP) Mentor. These will be assets to our community in the years to come.
My thanks go to the members of the Principal Search Committee: Tom Girard '80, Chair, John Gerspach '71, Board Chair, Ellen Curry Damato, Rev. Kevin Creagh, C.M.'87, Joe Giannuzzi '65, Mary Anne Kelleher and Tom Marchesini '86 P'23 '25. They were thorough, thoughtful, engaged and insightful. The process worked and again, we found the ideal candidate was here among us with the credentials and passion to serve Holy Cross well.
Tom Girard '80, Chair of the Principal Search Committee noted, "The Search Committee did an outstanding job of thoroughly vetting a diverse group of qualified candidates and Dr. Blanchard quickly rose to the top of that list. Holy Cross will benefit from his leadership, passion, communication skills, and vast experience as an educator."
"Given his strong background in leadership, student learnings and educational management, combined with his undying passion for Holy Cross," noted Board Chair John Gerspach '71, "I have no doubt that Dr. Blanchard will prove to be an outstanding Principal of our beloved Holy Cross. I am excited for our students who will be the true beneficiaries of Woody's immense talents and unique perspectives."
Dr. Blanchard notes, "I am humbled to serve as the eleventh principal of my alma mater, Holy Cross High School. With this appointment, it is a testament to God that my life has come full circle and I have returned home. Father Basil Moreau wrote in 1856, 'Education is the art of helping young people to completeness.' Following Father Moreau, I am devoted to ensuring our students reach their maximum potential. The values I hold as an administrator – assuring access to education, providing equity of services, promoting diversity in programs, and encouraging a mutual respect of all students, are evidenced through my academic research interests and professional accomplishments."
"I look forward to working with our dedicated faculty, staff, and students of Holy Cross to maintain the mission, generate excitement within the community and external constituencies, and play a significant role in the betterment of the lives and futures of our students."
We are elated to welcome Dr. Weedens "Woody" Blanchard home to Holy Cross as our next Principal. He brings a wealth of knowledge and experience in all facets of education that will move Holy Cross further into the 21st Century and benefit all of our students at all levels of our academic programming. Of equal importance, he brings a tremendous energy, enthusiasm and affection for Holy Cross that will help our mission thrive. I have greatly enjoyed working with him the last three years on the Board of Directors and the Executive Committee and I look forward to his partnership in the years to come in the work of moving Holy Cross forward.
Please join me in welcoming Dr. Weedens "Woody" Blanchard '89 as the eleventh principal of Holy Cross High School.
Ave Crux, Spes Unica.

Mark A. Mongelluzzo '92
President