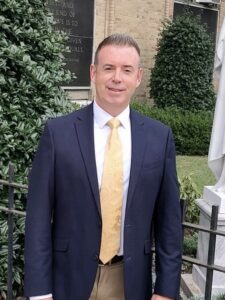 Holy Cross High School is pleased to announce that Mr. Michael Ware will serve as the next Assistant Principal for Campus Life effective immediately.
A member of the Class of 1989, Mr. Ware is currently Chair of the Art Department and Dean of the Class of 2025. Prior to joining the Holy Cross faculty in 2019, he taught Art at Holy Trinity High School and served the City of New York for several years as an officer in the NYPD.
A respected and dedicated member of the Holy Cross faculty and a passionate alumnus, Mr. Ware's understanding of and dedication to the mission of Holy Cross, along with his care for our students, makes him the ideal candidate to serve our school community in this capacity.
"We conducted a thorough search and interviewed several highly qualified candidates for this position," notes Mark Mongelluzo '92, President. "Mike Ware's nearly forty year affiliation with Holy Cross, his excellent work as a teacher the past several years and as a Dean this past year, coupled with the respect and admiration with which he is held among our faculty and students alike, made it clear he was the perfect choice to be our next Assistant Principal for Campus Life. I am delighted that Mike said yes and I look forward to working with him in his new role where I am confident he will continue to be a positive influence upon our students."
Dr. Weedens Blanchard, Ed.D.'89, Principal adds, "Michael is a constant professional and seasoned educator. He takes the work of education seriously. What I admire about Mike most is the love he has for Holy Cross High School. His appointment is the added piece needed as we continue to move Holy Cross in the right direction. I very much look forward to working with Michael."
Reporting to the Principal, in his new role Mr. Ware will serve as a key member of the leadership team in fostering and developing a Catholic and Holy Cross culture throughout the school. He will do so by promoting a positive school climate, implementing and managing all aspects of the Student Code of Conduct including the school's Attendance Policy and Discipline Policy, communicating with parents on all issues relative to discipline, attendance and other campus life issues, and managing all aspects of co-curricular, non-Athletic activities and clubs. He will be assisted in this work by the four Deans of each class who will report to him in that capacity.
Mr. Ware remarks, "I would like to thank Mr. Mongelluzzo and Dr. Blanchard for putting their trust in me to guide the young men and women of Holy Cross as their new Assistant Principal for Campus Life. I hope to promote the good Catholic values in our students that were instilled in me when I attended Holy Cross. I have been provided so many meaningful opportunities for growth during my time here at Cross, starting as an Art teacher, as Fine Arts chairperson, as well as getting involved with the school newspaper – The Lance, the photography club, coaching the football team, and as Dean of the Class of 2025 and now Assistant Principal for Campus Life. I am truly humbled to be able to work with an amazing faculty, a top notch administration and a growing student body here at my alma mater."
Please join us in welcoming our new Assistant Principal for Campus Life, Mr. Michael J. Ware of the Class of 1989.