Dear Members of the Holy Cross Community,
With great pleasure and excitement, I share with you the appointment of Mr. Edward Burns '84 as Holy Cross High School's Vice President for Mission, commencing July 1, 2023.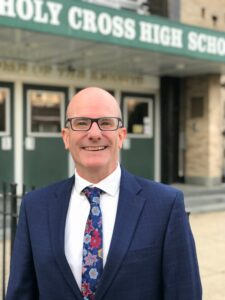 Ed's dedication to Holy Cross has been invaluable for thirty-one years, and he has left an indelible impact on our school community that is hard-pressed to rival. After earning both Bachelors and Masters degrees in Secondary Education from Queens College and teaching at St. Francis Prep for a couple of years, Ed returned home here to Holy Cross in 1992 as a fine arts teacher, before eventually becoming the Fine Arts Chairperson. The true embodiment of zeal, he was the senior-class moderator for many years and was responsible for organizing innumerable senior class trips, baccalaureate masses, annual farewell breakfasts for our graduating seniors, and memorable senior proms–all culminating in June commencement ceremonies. As moderator of The Cross (our school yearbook), Ed has helped capture and preserve many wonderful memories and experiences of countless Holy Cross students, and for a time motivated students both behind the cameras or in the spotlight as the director of our Television Production program – HCtv.
During his ten years as principal (the longest tenure after Joe Giannuzzi '65), Ed earned a Masters of Science from Fordham in School Building Leadership, helped steer Holy Cross with the implementation of a 1:1 Chromebook program, and successfully led our school's historic mission expansion as we welcomed young women for the first time as freshmen in the Fall of 2018. Over the course of the next four years, Ed's dedication and attention to detail–with the help of his colleagues on the academic side–helped ensure a successful transformation to a fully-coeducational institution. During that time, as the world faced a global pandemic in the spring of 2020, under Ed's leadership, our faculty and students were able to navigate an unimaginable situation while continuing to provide the quality of education expected from Holy Cross. Ever the masterful planner, that June, under Ed's stewardship, the Holy Cross community rose to the challenge of delivering a private graduation ceremony for each member of the Class of 2020. From Queens to Brooklyn to Nassau County, Ed's devotion to our students provided a moment of illumination during a dark time for many in our community. That Fall, as schools were tasked with reopening while adhering to the at-times confusing and contradictory government-issued guidelines, Ed and his team guaranteed that our institution would meet the required standards so we could welcome back our faculty, staff and students eagerly–and safely.
As Vice President for Mission, Ed is charged with supporting mission integration of our unique Holy Cross charism for our students, our faculty and members of the Board of Directors, while overseeing the Office of Mission and Campus Ministry and our day to day faith life including daily prayer, Feast Day celebrations, prayer services and liturgies. With over three decades of experience living our mission, Ed is well-suited in accomplishing these goals while fostering and nurturing the relationships necessary throughout the Diocese of Brooklyn and the Moreau Province of the Congregation of Holy Cross to further our Catholic and Holy Cross identity. His unique gifts and knowledge of the Holy Cross charism will also play an integral role in the creation and implementation of a four–year retreat program in cooperation with the Theology Department, that will help our students to deepen their relationship with God and strengthen their faith.
In my first year as president of Holy Cross, Ed has proven to be a wonderful partner: wise, gracious, full of institutional knowledge, and driven to make our mission real. I know that he will continue to be a valued colleague as he takes on the important responsibilities of Vice President for Mission with the necessary zeal our founder Blessed Basil Moreau, CSC, would insist upon. I trust that Ed will bring to this new role all of the skills and talents that our beloved Holy Cross has benefited from over the three plus decades he has served our mission in various ways.
Please join me in thanking Ed for his decade of service as our tenth principal. We will be sure to celebrate his many accomplishments later in the school year. For now, please join me with joyful anticipation of Ed's next leadership role here at Cross!
As we look to plan for the future, a search committee is already being organized to seek a qualified replacement to take the helm as the 11th principal of Holy Cross in September.
Ave Crux, Spes Unica


Mark A. Mongelluzzo '92
President