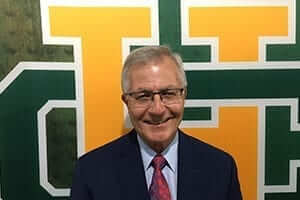 Dear members of the Holy Cross family,
As chairman of the Board of Directors at Holy Cross, I am privileged to have a first-hand and high-level view of everything going on at the school. From this unique vantage point, I can say without reservation that I am extremely proud of my alma mater, its habit of continual self-improvement, and the results it delivers for our students. I've watched the school grow even stronger in this regard – first with the wise but difficult decision to shift to co-education, then with the challenging but vital Cross Currents Campaign. The Holy Cross family's immediate response to the $750,000 Challenge Grant has been awe-inspiring – with hundreds of new donors committing hundreds of thousands of dollars in just a few short weeks. If you have already given, thank you for your support!
For many years after I graduated, I lost touch with Holy Cross. I headed to another fine Holy Cross institution – the University of Notre Dame – for my undergraduate work. I got married, I started a family, and I focused on my professional career which culminated with me serving as the CFO of Citigroup for 10 years. While I worked hard throughout my career, I also realized that, as is the case with any successful person, I was the beneficiary of a certain amount of good fortune – being in the right place at the right time and, importantly, with the right set of skills. Along the way, I took many opportunities to counsel young people on their personal and professional development. I advised them that problem-solving skills, analytical skills, and communication skills were critical to their future success. After some self-reflection, I realized that I had acquired those very skills at Holy Cross. I came to understand that the foundation for so much of my success in life had been laid in high school. When I entered Cross, I was a smart kid, good with numbers, and perhaps a bit of a loudmouth. I left Holy Cross as a smarter kid, even better with numbers, and with the ability to write creatively and expressively. When I graduated, I was still loud — but Holy Cross had directed my voice and given it meaning and purpose. The teachers at Holy Cross (particularly Brother Karl Diemand) pushed me to be more. It was true in academics, it was certainly true in my choice of college, and it was true for me as a person.
I have a tremendous amount of gratitude to Holy Cross for all it has done for me. I am extremely enthusiastic about all that Cross continues to do for young people today. The success of the Cross Currents Campaign and the current matching gift challenge in particular will ensure its ability to excel in this regard well into the future. That's why I decided to send you all this message today – to provide you with an update, thank you if you've already given, and encourage you to join me in supporting this great work.
With just a few days left in this challenge, your gift can have double the impact – but only if you give during the next few days. Thank you for all that you do for Holy Cross, and thank you again for your attention to this special appeal.
John Gerspach '71
Chairman of the Board, Holy Cross High School
CFO, Citigroup (retired)
Seventh Weekly Update: Monday, June 14, 2021
$586,384


in Matching Funds
Earned to Date!
$163,616


in Challenge Funds
Still Unclaimed!
Any new Cross Currents gift you make by Wednesday, June 16, 2021 will qualify for the match!