Our Cross Currents Campaign will address the most pressing needs facing Holy Cross High School and its students, including each of the following priorities:  
Athletic and Convocation Center (ACC)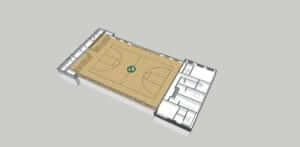 Athletics and physical well-being are a vital part of educating the entire person in mind and heart. Many parents carefully consider athletic opportunities as they discern which high school is best for their sons and daughters. In addition, sports provide a focal point for camaraderie and community building among students.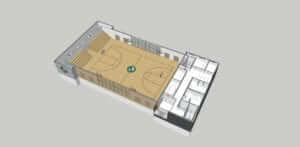 Our current athletic facilities will be too small to accommodate a fully co-ed student body by 2021.  Therefore, in order to provide the best possible educational and athletic opportunities for young men and women, Holy Cross needs additional, improved athletic space. Constructing the new Athletic and Convocation Center on the north side of Holy Cross High School will allow us to add a two-story regulation basketball court, men's and women's locker facilities, additional space for athletic department offices, and multipurpose/training facilities.  A full lower level will provide even more space as Holy Cross continues to grow.
The ACC will occupy the space currently used for the outdoor basketball courts and the southernmost leg of the practice track.  This will create a sheltered courtyard between the current school building and the Athletic and Convocation Center.  The south wall of the ACC (between the courtyard and the Center's basketball court) will be made of glass. It can be raised and lowered to create an indoor-outdoor space for special events.  
Construction of the Athletic and Convocation Center, together with the re-routing of the southern end of the practice track, will require over $6 million.
Needs-Based Scholarships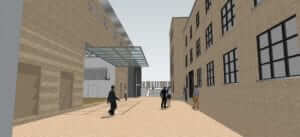 In the New York area, the cost of living is rising faster than inflation and wages.  Education costs are rising at an even faster rate across the nation.  In spite of these trends, we remain committed to keeping a Holy Cross education affordable for the diverse communities we serve regardless of economic background.  Trimming our budget allows us to offer discounts to the families in most need. Our scholarship fund allows us to award significant financial support to talented students with limited means.  Even so, every year there is significantly more financial need than there are funds available.
Raising an additional $3 million for our scholarship endowment will nearly double the annual scholarship awards we can distribute.  This will empower Holy Cross High School to better meet the educational needs of families in the communities we serve.
The Knights Fund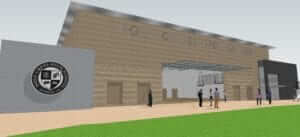 Our Knights Fund is Holy Cross's signature unrestricted annual giving program.  Every year, gifts to the Knights Fund are used to enhance arts and athletic programs and to subsidize tuition for all students.  During the 2018-2019 school year, these funds offset tuition costs by approximately $2,800 per pupil!  Since Holy Cross families rely on this annual financial support, the Cross Currents Campaign includes $1 million in funding for the 2020 Knights Fund.  This way, students and their families continue to benefit from Knights Fund support even while the Cross Currents Campaign is underway during the 2020 school year. 
Cross Currents Campaign Goal: $10 Million
"Stretch for STREAM" Challenge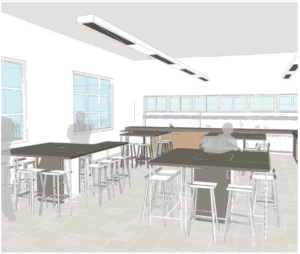 Holy Cross students need a strong foundation in the applied sciences and mathematics in preparation for rigorous collegiate courses and the competitive job market beyond. Here at Holy Cross, we have broadened that focus to include Science, Theology, Robotics, Engineering, Art, and Mathematics through the STREAM Program.  Our STREAM Program could become even stronger through upgraded laboratory facilities and designated outdoor space to study the natural sciences.  The former residences of Holy Cross Brothers on the top floor are perfectly situated to become new science labs.  Since there are no additional floors above them, these rooms can easily accommodate modern ventilation systems and other technological enhancements.  In addition, the adjacent rooftop can be transformed into a green roof for students to study botany, hydroponics, and water conservation.  The green roof would also be perfect for astronomy and meteorology observation.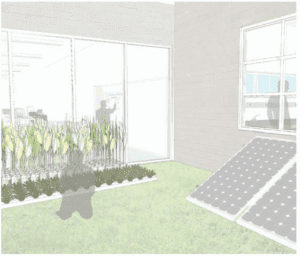 Funds raised over-and-above our $10 million goal will be used to build out new science labs, a green roof, and additional athletic facilities  in the lower level of the new ACC.  This way, we would maximize the space available to us to educate the entire person.  If the Cross Currents Campaign were to raise $2 million over-and-above its $10 million goal, we would be able to fully fund all these objectives for our beloved "Cross."
Cross Currents Goal, including the Stretch for STREAM" Challenge: $12 Million